Sage & Braker Gun Cleaning Mat: The Only Gun Mat You'll Ever Need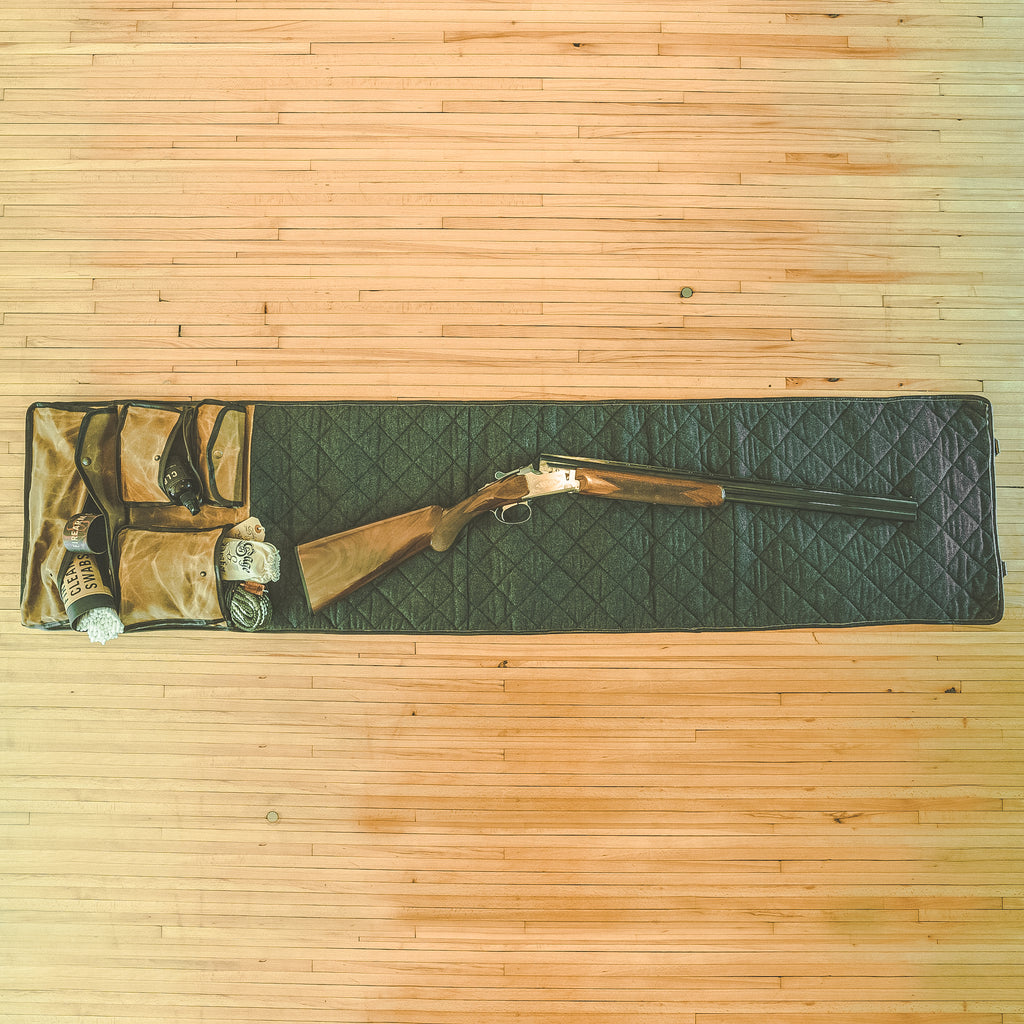 Don't settle for anything but the best when it comes to maintaining your guns. Here's why the Sage & Braker gun cleaning mat absolutely blows the competition away.
Your handguns, rifles, and shotguns are worth hundreds if not thousands of dollars each, so don't use inferior tools to clean and maintain them. You might get away with using a cheap gun cleaning mat made out of the same material as a mouse pad or an old t-shirt/towel for a little while. However, by doing that, you also run the risk of scratching one of your firearms or making a real mess when gun oil eventually soaks through the mat if it's not waterproof.
A high quality gun mat is literally the foundation of any gun cleaning kit. This is because the best gun cleaning mats provide a good sized cleaning surface to work on while at the same time protecting the gun itself and the table underneath. The Sage & Braker gun cleaning mat does both of those things extremely well while also incorporating a number of features and benefits that competitors like the Rangetechnic Thermal Silicone, the Real Avid Smart Mat, the TekMat AR-15 mat, and the UsefulThingy gun cleaning mat all lack.
So what sets the Sage & Braker mat apart from the competition?
First, the Sage & Braker mat is made out of the highest quality materials: 12 ounce waxed canvas, heavy wool, and thick leather trimmings. This isn't a cheap, non-slip neoprene rubber mat that doesn't provide any real protection for your gun or the surface underneath. Instead, has over 1/2" of ultra soft padding that will give you many years of good service protecting your shotgun, rifle, or handgun regardless of whether you're cleaning it on your kitchen table, desk, work bench, or in the bed of your truck after a long day at the gun range.
Second, at 69" long and 16" wide, this gun maintenance mat has a really big work area. So, while you can absolutely use it as a handgun cleaning mat for your 1911, Glock, or Sig pistol, the Sage & Braker mat is big enough to use for shotgun and rifle cleaning as well. The work surface will also accommodate a gun parts tray alongside a full sized rifle or shotgun with plenty of room to spare and is also great for minor gunsmith work.
Third, this mat has four canvas and leather pouches sewn into it that are specifically designed to hold related products like CLP, cleaning rods, gun cleaning solvents, bore cleaning kits (aka bore snakes), brushes, picks, absorbent cleaning rags, swabs, and other gun cleaning tools. So, there's no need to bring a separate gun cleaning box afield or to the shooting range. Just bring your mat loaded up with your tools and you'll be all set!
Fourth, even though it has a large cleaning surface and can hold lots of other gun cleaning supplies when fully extended, this mat is also really portable. Simply roll the mat up and buckle the leather straps to compress it down into a compact and easy to handle package. Then, toss the mat containing your full gun cleaning kit in the truck right next to your range bag.
Finally, in addition to being extremely functional, this is a handsome gun mat that's also built to last. This is truly an heirloom quality mat that is produced specifically to provide many years of good service and get passed down through multiple generations of gun owners.
With a timeless look and cool feel, this mat matches perfectly with an over/under shotgun or a classic Winchester rifle. That being said, there's no reason why you can't use it for cleaning guns like an AR-15 or other modern sporting rifle either. It's a good gun cleaning mat perfectly suited for "black" guns as well as those with a more traditional look.
As every hunter knows, it's essential that you take good care of your guns to ensure they perform at the moment of truth.
All Sage & Braker Mercantile products are the end result of extensive testing and research by longtime hunters. We know the importance of buying well-made gear and taking good care of it. For that reason, all of our products are built using the finest materials and with the highest quality control standards in the business. 
So, if you're a dedicated hunter or shooter looking for a premium gun mat, then the Sage & Braker gun cleaning mat is just what the doctor ordered.
Buy your Sage & Braker gun cleaning mat here.
Follow Sage & Braker Mercantile on Facebook, Instagram, and YouTube.
Share this