Gun Cleaning Kit Essentials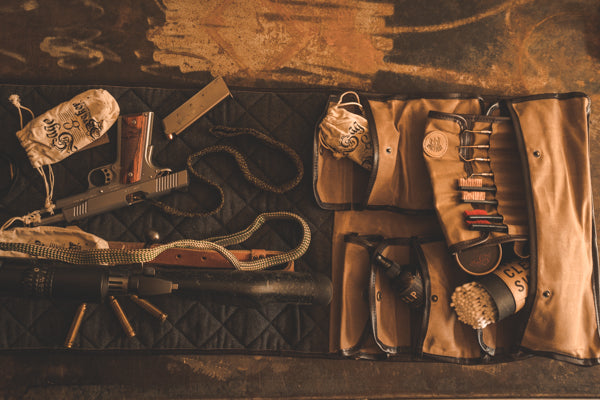 Here's what you need to build a universal gun cleaning kit that will enable you to keep your handguns, rifles, and shotguns in pristine condition for many years of service.
You're not alone if you're confused and overwhelmed by the staggering number of gun cleaning products produced by companies like Birchwood Casey, Hoppe's, Otis, Real Avid, Remington, Tipton, and Winchester. While there are many really good gun care products available these days, it's often difficult to tell the difference between good and bad products at first glance. Since you'll be using your gun cleaning kit to maintain firearms worth hundreds or even thousands of dollars, you don't want to be using anything other than the best possible cleaning tools.
Don't sweat it though: these Sage & Braker products are exactly what you need to build a deluxe gun cleaning kit.
Gun Cleaning Mat
A nice gun cleaning pad or mat is the foundation of any quality gun cleaning kit. Ideally, a gun mat should provide plenty of work space, protect the gun itself, and prevent cleaning solutions from damaging the surface under it.
The Sage & Braker Gun Cleaning Mat checks all those boxes: it measures 69" long and 16" wide, is made of 12 ounce waxed canvas, and features over 1/2" of ultra-soft padding. Additionally, the mat has four soft sided canvas and leather pouches sewn into it that are specifically designed to hold cleaning rods, gun cleaning solvents, absorbent cleaning rags, and other gun cleaning supplies. At the same time, this mat is also really portable to facilitate field cleaning. Just roll it up, compress it down into an easy to carry package with the attached leather straps, and toss it into your truck with your range bag.
Buy your Sage & Braker Gun Cleaning Mat here.
Bore Cleaning Kit
Though it's still a good idea to have a brass rod on hand in case you need to clear an obstruction from your bore, a bore snake is definitely the way to go to quickly and effectively clean the barrel of your firearms. So, there's no longer any need to keep a bunch of different gun cleaning patches, brushes, or cleaning rods around. Just get a bore cleaning kit in the appropriate size, spray some cleaning solution down the barrel, and pull the bore cleaning kit through your barrel a couple times for an incredibly fast and thorough cleaning.
With a bronze brush and a long buffing rope, these bore cleaning kits will thoroughly remove fouling the inside of your barrel. Additionally, our bore cleaning kits come with a handy canvas carrying sack for storage and also feature a detachable bore brush. This allows users to wash the buffing rope separately if desired.
Our bore cleaning kits are available in all popular handgun, rifle, and shotgun bore sizes. So, we have you covered regardless of whether you need a rifle cleaning kit to clean your AR-15, other MSR, or bolt-action hunting rifle, a shotgun cleaning kit to clean your upland bird gun, or pistol cleaning kit for your concealed carry gun.
Buy your Sage & Braker Shotgun/Rifle Bore Cleaning Kit here (suitable for .22 to .54 caliber rifles and .410 bore to 12 gauge shotguns).
Buy your Sage & Braker Handgun Bore Cleaning Kit here (suitable for .22 to .45 caliber handguns).
Solvent for Gun Cleaning
No gun cleaning kit is complete without some sort of gun cleaner or solvent like Hoppe's No 9. You'll also need some gun oil to lubricate your firearm and protect it from rust down the line. Instead of carrying around a couple of different products, you could just use some Sage & Braker CLP instead and accomplish all those goals at the same time.
CLP stands for Clean, Lubricate, Protect and that's exactly what it does.
Our CLP is highly penetrating and will infiltrate the metal surfaces on your firearm at a microscopic level for deep cleaning of carbon, copper, and lead fouling. Additionally, the anti-static characteristics of our CLP hinder the attachment of carbon and other fouling after use, so your firearms won't get as dirty when you shoot them in the future. It's also designed for superior lubrication and heat dissipation during periods of heavy use as well as great protection from corrosion.
Finally, Sage & Braker CLP is bio-based and non-hazardous.
Buy your Sage & Braker CLP here.
Other Gun Cleaning Tools
You'll also need a few other tools like a gun cleaning cloth, a couple of picks, and some copper and nylon brushes to round out a complete gun cleaning system. The Brush & Pick Tool Roll does a great job of filling that need with 4 brass picks and 4 cleaning brushes (2 copper and 2 nylon).
These tools are perfect for thoroughly cleaning all the little nooks and crannies on your guns. Additionally, the fact that the picks and brushes are made of brass, copper, and nylon ensures that they're ideal for serious cleaning without causing any damage to your expensive firearms. The whole set comes in a waxed canvas and leather roll-up carrying case matching the look of the Sage & Braker gun cleaning mat for easy transport and to help keep your gun cleaning kit organized.
Buy your Sage & Braker Bush & Pick Tool Roll here.
All Sage & Braker products are the end result of extensive testing and research by longtime hunters. We know the importance of buying well-made gear and taking good care of it. For that reason, we use premium materials and have exceptionally high quality control standards.
If you're a passionate hunter or shooter looking for a universal gun cleaning kit, then you can depend on these products when the chips are down.
Share this