Superior Gun Cleaning Supplies For Passionate Hunters And Shooters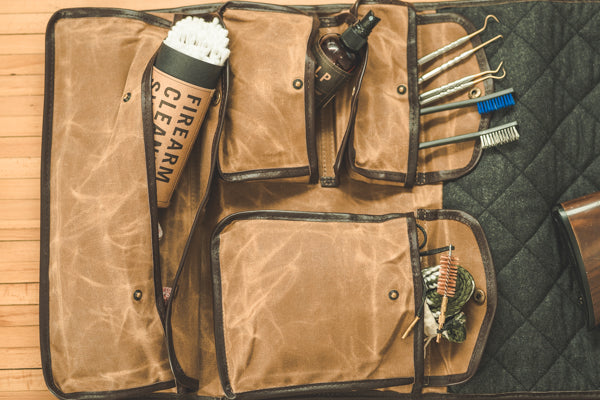 We manufacture premium gun cleaning supplies designed to keep your shotguns, rifles, and handguns in perfect condition. Here's what sets us apart from the competition.
A quick search online or at virtually any sporting goods retailer will reveal an astounding variety of gun cleaning supplies sold by big name companies like Birchwood Casey, Bore Tech, Break Free, Hoppe's, Pro Shot, Real Avid, and Winchester. Now don't get me wrong, many companies produce quality gun care supplies. However, serious hunters and shooters know that cleaning their firearms with the best possible gun cleaning tools will pay off in the long run with improved reliability, smaller shot groups, and just all around better performance when they need it the most.
Sage & Braker produces some of the best gun cleaning supplies in the United States and here's why passionate sportsmen maintain their prized firearms with Sage & Braker products.
Designed By Longtime Hunters
All Sage & Braker Mercantile products are the end result of exhaustive research and testing by veteran hunters and shooters. We know the importance of purchasing high quality gear and ensuring we maintain it properly. For that reason, we use premium materials and have exceptionally high quality control standards.
Additionally, all of our gun cleaning supplies incorporate features not found on competing products that we'll discuss in detail below.
Bore Cleaning Kits
We'll start off with our bore cleaning kits. The Hoppe's bore snake was a gigantic leap forward in gun cleaning technology and enabled shooters to quickly and thoroughly clean firearms without using a cleaning rod, gun cleaning patches, a gun vise, or a bore guide.
Our bore cleaning kits take the advantages offered by a traditional bore snake a step further by incorporating a longer, detachable buffing rope and a canvas carrying sack.
The detachable rope facilitates power scrubbing with the bronze cleaning brush if necessary and also enables the user to clean the rope separately from the bore brush. The longer buffing rope provides a larger surface for a more thorough cleaning. The carrying sack protects the bore cleaning kit while not in use and makes for tidier storage.
We currently manufacture our bore cleaning kits in all common pistol (.22 to .45 caliber handguns) and shotgun/rifle bore sizes (.410 bore to 12 gauge shotguns and .22 to .54 caliber rifles). So, regardless of whether you need a shotgun cleaning kit to clean your waterfowl gun, a rifle cleaning kit to clean your .30-06 hunting rifle, or a pistol cleaning kit for your concealed carry gun, we have you covered.
Bore snakes are very simple to use and form the cornerstone of any deluxe gun cleaning kit. Just get one in the appropriate size, spray some cleaning solution down the barrel, and pull the whole thing through your barrel a couple times for a fast and thorough cleaning.
Cleaning Solvents And Gun Oil
While our bore cleaning kits are great products on their own, they work best when using a gun cleaner or solvent. You should also use some sort of oil to lubricate your firearm and protect it from rust. There are numerous examples of bore cleaners out there like Hoppe's No. 9 or M-Pro 7 that work pretty well. As good as those products are as solvents though, they aren't designed to lubricate or protect firearms.
So, instead of purchasing multiple products to build your gun cleaning system, use Sage & Braker CLP instead. CLP stands for Clean, Lubricate, Protect and perfectly describes the function of this product.
Our CLP is specifically designed to infiltrate the metal surfaces on firearms at a microscopic level for superior deep cleaning of carbon, copper, and lead fouling. At the same time, our CLP also provides outstanding lubrication, even during periods of extreme use. Finally, it is also non-hazardous, possesses anti-static characteristics that hamper the attachment of carbon during use, and protects your firearms from fouling and rust.
Other Gun Cleaning Tools
Cleaning accessories like a set of firearm cleaning swabs, picks, and cleaning brushes will enable you to clean all the hard to reach spots on your firearms. This is particularly important when cleaning an AR-15 and many shooters use dental tools for this task.
Fortunately, our Brush & Pick Tool Roll and our Firearm Cleaning Swabs are specifically designed for this sort of work.
Consisting of 2 copper brushes, 2 nylon brushes, and 4 brass picks, the pick and brush set has everything you'll need to carry out a deep cleaning on virtually any firearm without damaging them while you work. The tool roll comes in a leather carrying case that compresses down for easy storage and helps keep all those tools organized. The gun cleaning swabs have an oversized cotton tip attached to a sturdy, six inch long wooden dowel to spit shine all the tough to reach spots inside your firearms.
Finally, the addition of a good gun cleaning mat will round out your universal gun cleaning kit. The mat is a useful tool that will protect the firearm you're cleaning as well as the surface underneath it. It's also nice for conducting general gun maintenance as well.
Our gun cleaning mats are made out of waxed canvas and have over a half inch of ultra-soft padding. Measuring 69" long and 16" wide, the Sage & Braker Gun Cleaning Mat has a large cleaning surface big enough to hold virtually any handgun, rifle, or shotgun plus all the assorted gun parts you'll need to keep track of while your guns are disassembled. Even though it's really large, this mat rolls up and compresses into a very easy to carry package for storage and transport.
Family Owned Business
We are a family owned business dedicated to serving our customers, not a group of faceless shareholders.
For that reason, we can focus entirely upon producing the absolute best gun cleaning supplies possible and ensuring that we take care of all our customers. Taking care of our customers begins with the development and production of high quality new products, continues with our fast and free shipping, and finishes with our pledge to provide fantastic customer support if you have a problem that we need to address.
After all, we truly mean it when we say that our products are crafted at the highest caliber and we stand by that claim.
If you're a die-hard shooter or hunter who needs a cleaning kit for your prized firearms, rest assured that you can rely on our gun cleaning supplies at the moment of truth.
Follow Sage & Braker Mercantile on Facebook, Instagram, and YouTube.
Share this