"THE RED". From Father to Son… Wood And Metal Passed Down.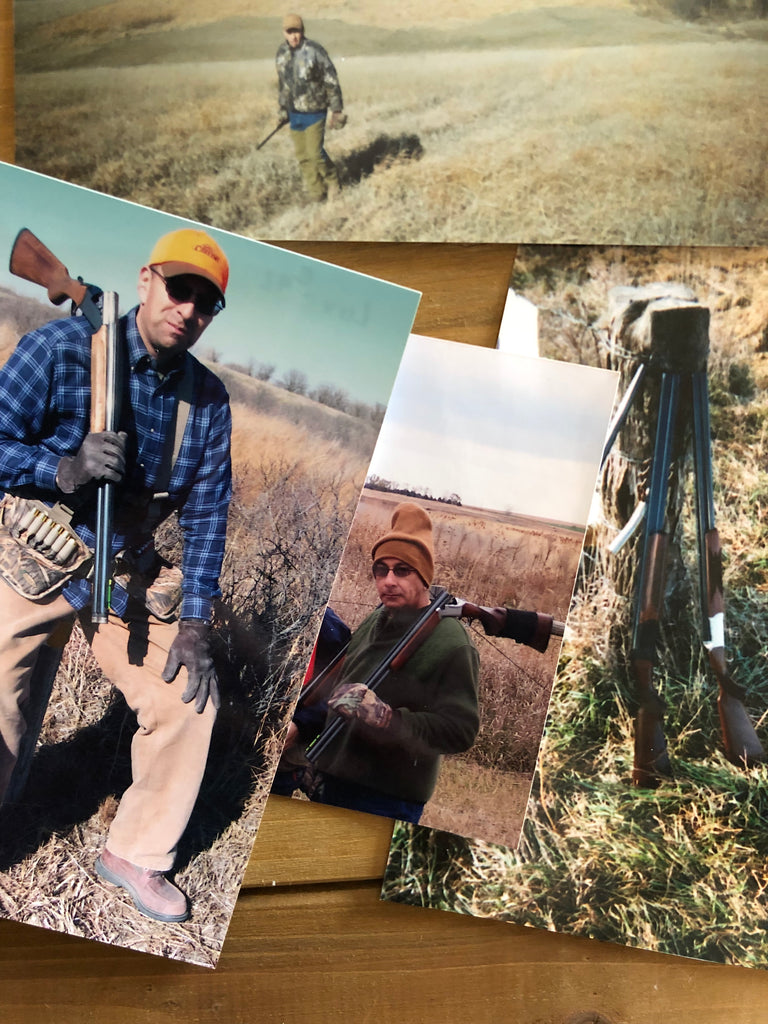 The first time I saw my father's brand-new shotgun, he was using a small white towel to wipe down the twin barrels. The long blue metal stacked tubes glinted with the bouncing light off the room. The shotgun was less than a day old. He had saved his money for months. When the time had come, he went down to the local gun shop where he had first laid eyes on the Ruger Red Label. He had never owned an over/under. His shotguns consisted of an off-brand 20 gauge pump and a 12 gauge Remington 1100. My father said he knew the instant he held it in his hands, that it was the shotgun for him. The over/under would be his upland legacy and maybe find its way into my hands afield one day.
The "Red" as the over/under came to be called by, had a highly polished stainless-steel receiver with hammer forged barrels. Barrel selection was determined by means of a selector mounted below the tang. My father's preference was shooting the bottom barrel first, with Improved Cylinder and followed up with the top barrel fitted with a Modified choke. This selection was pretty much his standard for most type of upland hunting. The twelve-bore came with five screw in chokes tubes to accommodate a variety of upland birds in an array of landscapes and environments.

The gleaming oil-finished wooden butt stock and forend were made from American walnut. Small details such as the checkering on the pistol grip and forend gave it a classy look. The Ruger Company had gone with the classic top checkering. It consists of grooves cut at a 60 to 90 degree angle, which create points at the intersection of the horizontal and vertical lines. These points resemble a diamond shape which help with the grip. The forearm sported a multi-point scalloped design. Appealing to the eye "The Red" was.
I continued watching my father slowly wipe down the over/under. He reached into his gun cleaning kit and produced an old small plaid rag. I remember this garment as a young boy. It was what he used to lubricate the shotgun barrels and choke tubes. He would spend time explaining to me the importance of maintaining a clean shotgun. It was one of my first lessons. He added small droplets of oil on areas with metal-on-metal friction. The barrels too received a light coating of oil. His hands began to glisten with the transfer of gun oil as he handled "The Red".
The last thing he did was to swab the barrels. From the old wooden-box he grabbed the 3-piece brass rod with a selected slotted end and placed a square white patch in it. It too received the gun oil baptism. He slowly pushed the rod through, coating the barrels. At the time I wondered how much attention, could someone give a gun that had never been fired. I would understand years later when he bought me my first over/under and I repeated the exact same steps. My father momentarily stopped what he was doing and looked up…he asked if I wanted to hold the shotgun. I nodded. He gently placed the shotgun into my hands. I brought "The Red" up to my right shoulder in one smooth motion, pointing it away in a safe direction. By over/under standards, the shotgun was heavy for being a "double". Tipping the scales at seven pounds, the shotgun still felt light and easy to maneuver in my hands. I swung "The Red", tracking an invisible rocketing bobwhite quail and simulated pulling the trigger while whispering to myself…bang. At that exact moment, I fell in love with "The Red" as it were my own.
My affair with his shotgun would continue every upland season thereafter. My father carried the over/under proudly. He liked showing it off. Standing in a field with a duo of rooster tails protruding from his bird vest, party members would often ask to see and hold "The Red". Without hesitation he would hand over the shotgun that had won his heart.  A decade would pass, and I was able to be there to witness my father connect on cackling roosters (more misses than hits) and the explosion of dozens and dozens of flushing bobs. I would find myself wondering how it would feel to carry "The Red" through large expanses of prairie and brush on public land. I never asked.
"The Red" did double duty in the marsh as a waterfowl gun. Immediately I noticed my father was NOT going to "baby" the Ruger Red Label. It impressed me that he was not afraid to bust through thickets and carry the gun when it rained and snowed. As years passed, my father and I shared countless fields and duck blinds together. Memories abound of us with our doubles broken down over our shoulders walking back to the truck on a dirt road or from a dove field. Him carrying "The Red" and me touting my over/under. I was content with my double. But on one special and fateful night on Christmas Eve in 2014 everything changed.
Being born and raised in Central America, our family is all about traditions and culture. We start celebrating at midnight, and after praying as a family there are blessings in the forms of hugs and kisses to everyone present. Phone calls to family in Guatemala are made. If time persists, there's a traditional Christmas dinner which includes homemade tamales. Afterwards the unwrapping of presents. However, that night would be different. My father instructed everyone to sit down. I caught a glimpse of my mother looking at him. She mumbled something in Spanish. He excused himself and went upstairs. Moments later, his footsteps on the wooden stairs signaled his return. In his hands was an old worn brown towel. I could see the ends fringed after years of handling. Something was wrapped in it.
My father approached me and gently placed the towel and its contents into my lap. I asked, "What is it?" He replied in Spanish, "Abrelo.", which translates into "Open it." Both hands reached down, and I grabbed the cloth and pulled it back. I immediately recognized "The Red". Two pieces of wood and steel lay before me. No words were spoken. My eyes began to water. I looked up in bewilderment. My father knelt-down and grabbed both the stock and barrels and attached the two pieces. He opened-up the action as he had done hundreds if not thousands of times and checked the barrels to make sure no shotshells were in the tubes. A quick glance and then a snap to close the action. He was always a very safety conscientious hunter. Yet again, another trait that he passed down onto me without me ever realizing it. My father said, "It's yours." I was speechless. I gave my father a long hug and whispered thank you.
My strange emotional attachment to "The Red" had come full circle. With outstretched arms, I grabbed the shotgun. I immediately felt the warmth woods gives off, offset by the coolness of the metal in my hands. My mind immediately went to those cold wintry days afield that were upon us at the time when I would be carrying "The Red" hunting pheasants, quail, prairie chickens, and ducks. I would continue as my father did and not discriminate the type of feathered game I would pursue. I would not allow weather conditions keep me from taking MY shotgun out into the elements and tough environment. Nicks and scratches would be added through my adventures afield. "The Red" would be something of my dad's, to hold in my hands. When times that he could not hunt with me, the shotgun would remind me of days in the past I spent learning from him about upland hunting. When the day comes that he can no longer walk a field with me, he will be with me in the form of "The Red".
One final thing…you may be asking yourself, if my father gave me "The Red", then what shotgun would he carry the field? Well, soon after he presented me with "The Red", he pulled out a fancy Spanish double! You know the saying, "Father knows best."
~ Edgar Castillo
You can follow Edgar and his adventures on his Instagram account Hunt_Birdz.
Share this