Truck Maintenance and Cleaning Kit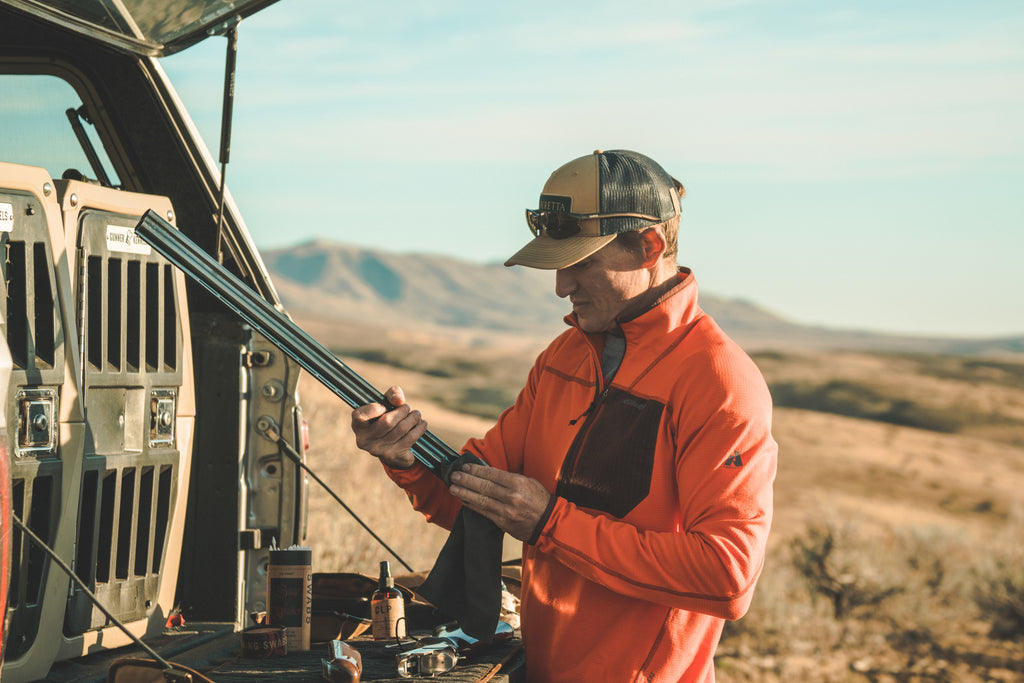 If you've read my previous article Preseason Prep: Care of the Browning Auto 5, you know that sometimes a quick breakdown of your firearm at the truck may be necessary to save a hunt. Having everything on hand to be able to do a quick fix is very reassuring, especially on those cross-country trips.
It is very easy to put too much stuff in your truck kit. I find that when a kit becomes too big and bulky, it tends to be left at home. This kit is not designed to do full blown gunsmithing in the field. Instead it helps you overcome any minor maintenance or cleaning issues you come across.
I've simplified this down to what can fit in my Sage & Braker Rifle and Shotgun Cleaning Mat, and now I don't go hunting without it. This kit covers the maintenance and cleaning of both my Wife and I's shotguns throughout the season. By swapping out only a few tools you can adapt this kit to any firearm you might be taking to the field.
Gun Cleaning Mat
The Sage & Braker Gun Cleaning Mat is the heart of my truck maintenance and cleaning kit. It not only provides a safe and clean surface for me to break my firearms down on. It also holds everything in my entire truck kit, making it a quick grab when headed out into the field. 
Having everything in one place eliminates searching around the house for what you need to take on your hunt. The four pockets hold everything you need to take care of your gun in the field.
Cleaning Solvents & Grease
The first and most obvious thing that should be included in every kit is gun oil and grease. Sage & Braker's Clean, Lube, Protect (CLP) does a great filling this void. Whether wiping down a wet gun to prevent rust or lubricating those high wear areas, it does the job.
A tube of the Sage & Braker Firearm Grease is another must have for your truck kit. Putting a dab of grease on the hinge points of your break open shotgun or on your removable choke tubes will reduce longterm wear and prevent those fine choke tube threads from seizing up.
In addition to these cleaning solvents and greases, it is always good to have a rag to quickly dry off a wet gun or wipe it down with a light coat of oil. 
Bore Cleaning Kit
A bore cleaning kit is a no-brainer when headed to the field. As the dogs are resting by the truck after a hunt, it has become almost ritualistic for my wife and me to break out the bore snakes. We aren't doing a thorough cleaning at this time. We are just removing any powder residue and putting a very light coat of CLP in the bore. 

By doing it at the end of the day, before we get home, we don't risk putting away a wet shotgun and forgetting about it. I use a shotgun that's 70 years old and it sees dust, rain, and snow on the regular. Staying ahead on cleaning, keeps the bore shining like the day it came off the FN production line in Belgium. It is a quick, easy, and effective way to keep your bores shining and ready for the next hunt. 
Collapsible Cleaning Rod
Do you really need one of those cheap collapsible cleaning rods in your maintenance kit? I think so. Not for what you might think though. As mentioned above, I use one of the modifiable bore cleaning kits for cleaning the bore in the field. A cleaning rod is in my kit for stuck cartridges. 
This has come in handy many times when out plinking with a 22 and that empty just doesn't want to come out. Instead of prying it out with your pocket knife, risking damage to your firearm's finish, running the cleaning rod down from the end of the barrel punches the case out with ease. Be careful not to damage the crown or muzzle end of the barrel doing this process.
Brush & Pick Tool Roll Kit
A cleaning brush and pick kit is a great addition to any truck kit. After busting brush all day chasing ruffed grouse, these picks to a great job getting the twigs out of your action. The brushes, in combination with CLP, are perfect for cleaning those parts that are covered in carbon build up. 
I roll up a dozen or so of the cleaning swabs in this case. The rigidness of the brushes and picks keeps them from breaking in transit. 
Firearms Parts Tray
The canvas gun parts tray is perfect for placing small parts in. It makes it virtually impossible to misplace small parts in the field. It is oil resistant and makes a great place to clean those really dirty parts. It is really easy to clean after use too, a quick wipe with a rag makes it look like new.
The firearms parts tray might be the only thing that sometimes doesn't make it into my kit. Why? Because I use it so much on my bench at home that sometimes I forget it. At this point I just need to pick up another one to dedicate to my truck kit. This is definitely one of my favorite tools on my bench.
Additional Gun Specific Tools
The following tools are gun specific and can be substituted with whatever might fit the bill.
Screw Driver Bits. Correct fitting screwdrivers are critical to doing any maintenance on your firearms. Fortunately, places like Brownells sell individual bits based on size, allowing you to measure your screw slots and get the perfect fitting bits for any screws you might need to remove in the field. Keeping these in a small plastic baggy will keep them from being misplaced.
Choke Wrench. A choke wrench for the gauge shotgun you are using can be very helpful on days where the Sharptails or Huns are flushing beyond the range you expected them to. This adds versatility and you won't have to hunt around the house for it when you need it most. As mentioned before, add a small dab of grease to your choke tubes when installing them.
Padded Pliers. If your firearm requires disassembly of the magazine tube cap for general field stripping these maybe a good idea. Some magazine caps are harder to remove than others, so this is based on your individual firearm. 
Using this Kit at Home
As you can probably tell by now, this kit works out to be a great at home kit as well. For those who aren't fortunate enough to have a workbench setup in their home or apartment, this kit can be rolled out on the kitchen table and used the same way. Eliminating the need to buy two of everything. 
You could make a case for adding other accessories to the truck maintenance kit, but this is a good basis to build your own! There is nothing better than getting back to camp after a long hunt and rolling your cleaning mat out on your cot to give your gun a good once over. 
Written by Kurtis Martonik
Share this