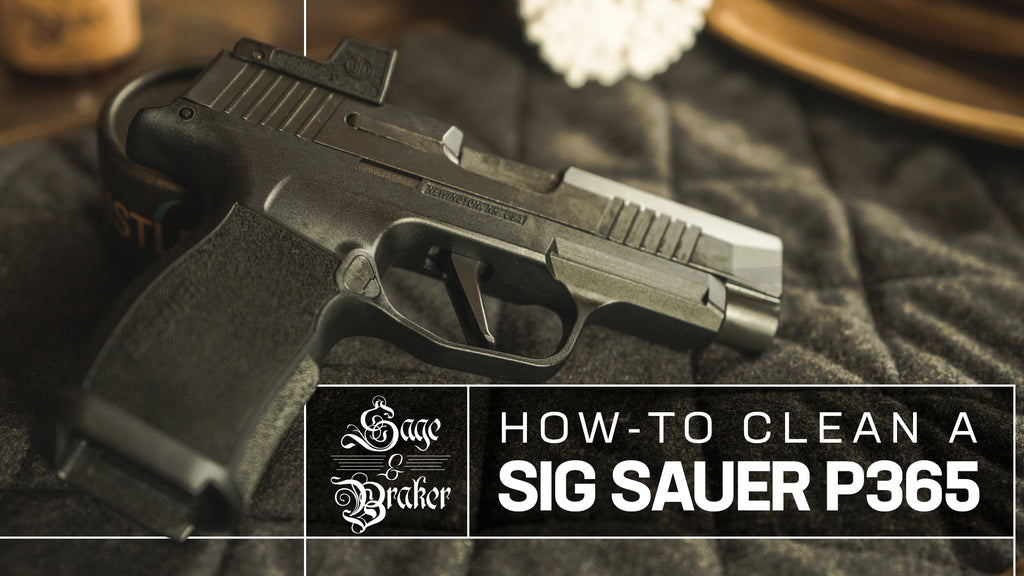 A step by step video on how to clean and disassemble your Sig Sauer P365 handgun.
Recommended Gun Cleaning Supplies for Your Gun Cleaning Kit
STEP BY STEP ON HOW TO BREAK DOWN AND CLEAN YOUR SIG SAUER P365 PISTOL FOR BEGINNERS
Step One
First of all, let's make sure that you Sig Sauer P365 is unloaded before taking it apart and cleaning it.
Step Two
Push the slide back and lock it open with the slide lock. Spin the takedown lever clockwise 90 degrees to the six o'clock position.
Step Three
Release the slide lock and pull the slide off the grip module.
Step Four
Push the guide rod and spring forward and then remove it.
Step Five
You can now grab the barrel by the lug and pull it out.
Step Six
You'll want to use some type of firearm parts tray in order to keep all the small parts organized while also giving you the ability to soak those parts in some CLP. We recommend using a CLP as it's essentially solvent for gun cleaning, a gun cleaning oil for lubricating as well as a protectant for long term storage of your firearm.
Place the barrel guide rod and spring in the parts tray.
Now let's grab some CLP and spray everything down. Make sure to get a few squirts inside the bore as well.
Step Seven
Grab the slide and give it a few squirts. Make sure to angle it downwards as shown here as you don't want to get CLP in the striker channel if you can help it.
Give the grip module a few sprays as well.
We'll grab the rest of our gun cleaning supplies while we let the CLP sit and do its work on your firearm.
Recommended Gun Cleaning Supplies
Some gun cleaning supplies you'll want in your gun cleaning kit to help make your life easy will be:
1.   A gun cleaning mat to give you a surface to clean your firearms on as well as store your gun cleaning supplies.
2.   A 9mm bore cleaning kit (similar but better than a bore snake).
3.   Some bristle pipe cleaners for cleaning the slide channels and hard to reach areas.
4.   Some high quality firearm grease.
5.   Long stem cotton swabs.
6.   A strong gun cleaning cloth that won't tear.
7.   Finally a gun cleaning brush and pick set is invaluable for breaking apart carbon and other contaminants.
Step Eight
Grab a nylon brush and get to work on the grip module try to hit everything but especially look for any place that looks like it might have carbon deposits.
Pay attention to the rails. If you have a nylon brush with a smaller end, this is a great spot to use it.
Get in the magazine well and give that a quick scrub.
Step Nine
Now that the slide has been sitting in the CLP for a little bit, grab that and get to work on it.
Everything needs to be scrubbed but pay a special attention to the breech face as well as the extractor which is right there.
That little part extracts the shell so you'll want to make sure that it is clean to ensure proper ejection.
Step Ten
Grab the spring and guide rod. Brush that as well. Make sure to spin it and get all sides.
Step Eleven
After that, all that is left is the barrel. Brush down all outside surfaces. We'll worry about the bore later, for now concentrate on the exterior.
Step Twelve
After that we'll use the bristle pipe cleaners to get to any areas that the brush couldn't. These fit perfect in the rails, the extractor and any other areas where a push and pull method work better than the scrubbing motion of a brush.
Step Thirteen
After that we'll use the long stem cotton swabs to mop up any carbon or debris that the previous method broke loose. This is a perfect way to get into this hard to reach areas.
Step Fourteen
Now that that is finished, grab a 9mm bore cleaning kit so we can take care of the firearm's bore.
You could use the bore cleaning kit while the firearm is assembled for a quick field cleaning, but since we broke everything down already we'll use it while the firearm is disassembled. 
Send the weight down the chamber end of the bore. Pull the whole unit through. One swipe usually takes care of it.
Step Fifteen
Now we'll give everything a wipe down with your gun cleaning cloth. Make sure to pay attention to all surfaces interior and exterior.
We advise against using paper towels here as they tend to tear and break apart. Something that's tough and reusable is ideal.
Lastly, you can send the cloth through the magazine well to make sure that there's no residual CLP left in there.
Step Sixteen
Grab your CLP and give the barrel a spray as well as the inside of the slide to make sure that it's properly lubricated.
Step Seventeen (optional)
If you're really putting the rounds through your gun, it might be a good idea to use some high quality firearm grease as well.
In most cases the CLP will take care of the lubricating, but for those with an endless stream of ammunition, this might be the way to go.
Hit the wear spot you see on the lug, then run a bead down the barrel. A swab works well to disperse the grease. Alternatively, a finger will work.
Now concentrate on lubricating the slide. Any area you see wear you want to get some grease on it. Make sure to get some on the rails as well.
This is where a cotton swab is worth its weight in gold. Smooth all the grease out.
Step Eighteen
Now for the simple and quick reassembly.
Place the barrel back into the slide.
Step Nineteen
Now you want to reinstall the guide rod and spring.
Step Twenty
Once that's in there slide the slide back on the grip module.
Push it all the way back and lock it into place with a slide catch lever.
This will typically rotate the takedown lever automatically. If it doesn't manually rotate it 90 degrees counterclockwise.
And that's it, you're all. Sitting before you is a fully cleaned and lubricated Sig Sauer P365.
Some Background on The Sig Sauer P365
A true high-capacity micro-compact handgun built for the conceal carry in mind. Chambered in 9mm, Sig Sauer's P365 accepts a double stack 10-round, 12-round or 15-round magazine. That's a lot of punch packed into such a small unit. Striker-fired with a short recoil, the P365 is made with a stainless steel slide and treated with a black Nitron finish.
Share this