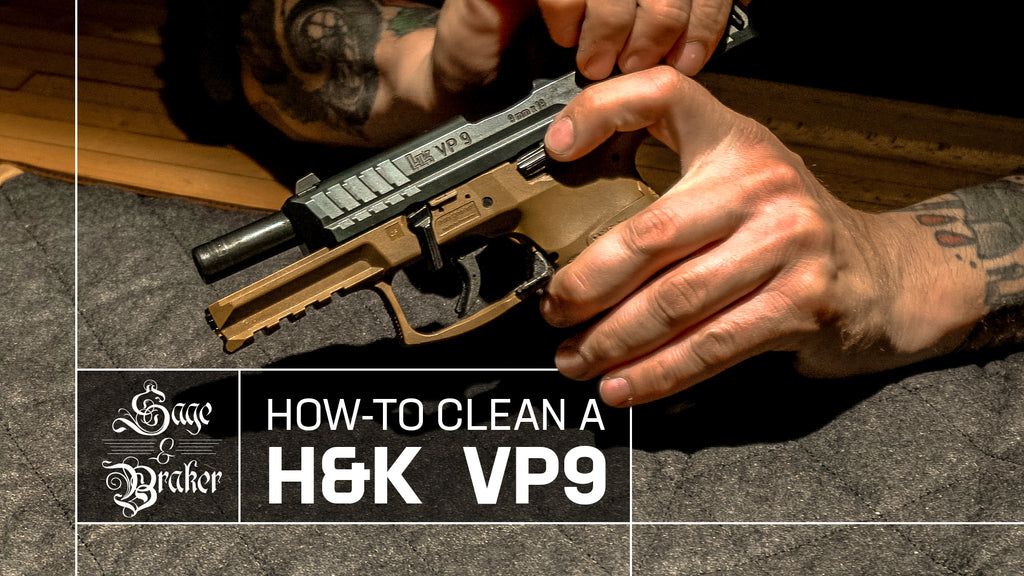 A step by step video on how to clean and disassemble your Heckler & Koch VP9 handgun.
Recommended Gun Cleaning Supplies for Your Gun Cleaning Kit
STEP BY STEP ON HOW TO BREAK DOWN AND CLEAN YOUR Heckler & Koch VP9 Pistol FOR BEGINNERS
Step One
As always when cleaning your guns, make sure that the magazine is out and that the chamber is clear. Make absolutely sure your firearms are empty before cleaning them.
Step Two
Being that your slide is already open, you can now spin the disassembly lever 90 degrees clockwise.
Step Three
Now release the slide slowly.
Careful here, the slide will want to rocket forward, make sure you've got a good grip and that you let it down with care.
Now you can pull the slide forward the rest of the way and separate it from the frame.
Step Four
Push back on the recoil guide spring and remove it from the slide.
Step Five
At this point you can take the barrel out of the slide on your H&K VP9. This is as far as we'll break down the gun for this basic cleaning.
Step Six
Grab some of our CLP and coat all the metal surfaces as well as the bore. Typically we'll clean the bore last allowing the CLP time to soak into the contaminants in there.
Step Seven
Now's the time to grab some brushes and get to work. A brush is a great place to start with the cleaning as it will break up the majority of the gunk. 
Get in there and and give it a thorough scrubbing. Hit all metal surfaces and take your time here. You don't want to leave behind any debris that could end up resulting in a jam later down the line.
If they deciding to be stubborn and are holding on for dear life, grab some of our stainless and brass picks to convince them otherwise.
Don't worry, we use brass tips on our picks so they won't scratch the metal on your firearms.
Step Eight
Another effective way to clean is to take some some bristle pipe cleaners to get to the hard to reach areas. What's good about this type of pipe cleaners is that you can bend them in just about any angle to suit your needs. 
Plus the stiff plastic bristle help break apart contaminants while the soft cotton mops it up.
Step Nine
Then grab some soft cotton tipped swabs will help mop up the rest. 
Make sure to pay extra attention to the the areas where the slide and frame come into contact with one another. Grit left behind in these areas could lead to unnecessary wear and tear on your firearm. 
Step Ten
Next go for a 9mm bore cleaning kit for the H&K VP9's bore. 
Send it through like so, starting at the rear of the barrel and pulling it out through the muzzle. 

One pull through should do the trick for all but the dirtiest of bores.
Having let the CLP sit for a little bit should have helped dissolve the carbon.
Step Eleven
Give a general wipe down of all surfaces with a rag.
Again, you want to make sure there is no dust or particles in there that could end up wearing down your gun. These guns have tight tolerances and you don't want them to get sloppy.
Step Twelve
Reapply a light coat of CLP to the moving parts to keep them well lubricated. 
She's cleaned are ready to be reassembled.
Step Thirteen
You can place the barrel back into the slide. This is pretty self explanatory. There's only one way it will go in.
Step Fourteen
Now you want to take the recoil guide and making sure the notched end is towards the muzzle, you want to reinsert it. You'll hear it click when it's in.
Step Fifteen
Take the slide and slide it back into the frame.
Push it all the way back and lock it open using the slide lock.
Step Sixteen
Now flip the disassembly lever 90 degrees counter clockwise. 
There you have it, a fully cleaned and lubricated H&K VP9.
Some background on the H&K VP9
The Heckler & Koch VP9 (the 'people's pistol)' is a striker-fired pistol chambered in 9mm. It is known as a versatile handgun as it is completely ambidextrous. The slide release is present of both sides of the frame and the magazine release can be used by either right handed or left handed shooters. 
Another advantage to the VP9 is that it has an extended full size Picatinny MIL-STD-1913 rail molded into its frame. This allows for lights and other accessories to be easily mounted to the frame. The rail is known for its rigidity which is an advantage over many of its competitors because the frame doesn't flex under the weight of heavier accessories. 
It is widely known that most striker-fired pistols have a pre-travel pull that increases in weight as the shooter squeezes the trigger. The VP9 is known to have a short, single action type break followed by a short positive reset. It's trigger has a smooth and consistent pre-travel.
The 2020 model received some much needed upgrades as well. It now boasts of a 17-round magazine, a welcomed upgrade from the previous 15-round magazine. They've also jumped on the trend of providing the pistol with a slide cutout for mounting red-dot optics. No more visits to the gunsmith to get those red-dots installed.
The VP9 is a solid choice for a sidearm. Built in Germany and renowned for their quality, it's hard to go wrong with a H&K. 
Share this