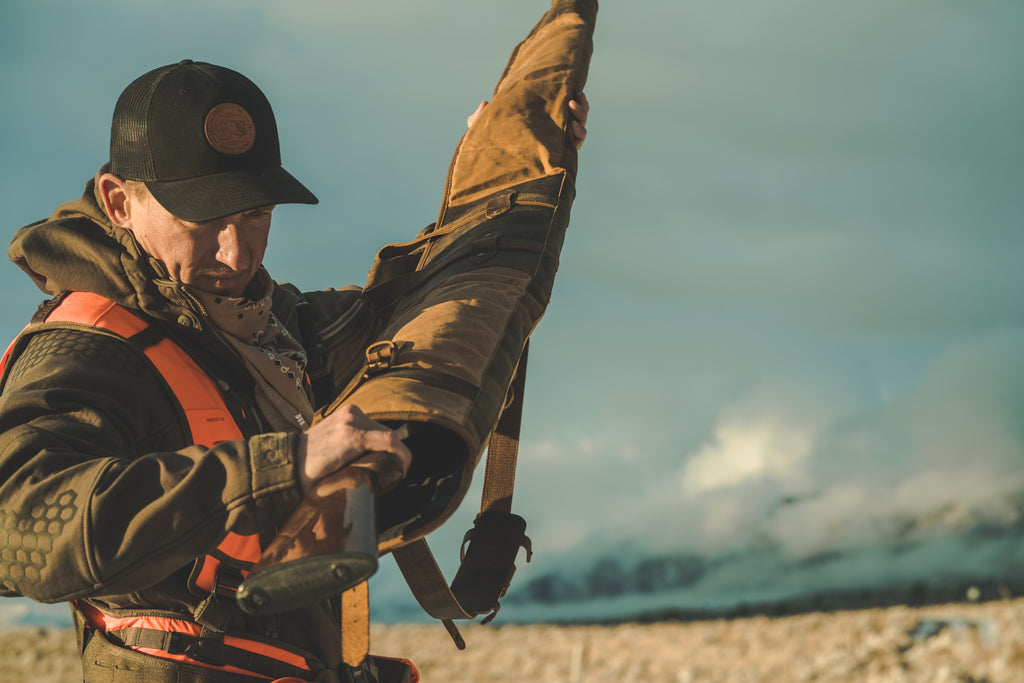 Sage & Braker Gun Case
Not all gun cases are created equal. It really is as simple as that. At the core, they are there to protect your firearm, but on the surface they are there to compliment the beauty of your firearm. At Sage & Braker we have taken form and function and blended them into a masterpiece.
No corners were cut when we designed and built our 12 oz. waxed canvas, Crazy Horse leather and quilted wool soft gun case. Simply the best materials coupled with the best manufacturing.
With a bulletproof design, our gun case is designed to take a beating so your legacy firearm doesn't have to. Secondly we sought out the finest materials available to ensure that this shotgun and unscoped rifle gun case will be around to hand down to the next generation along with your firearms. Lastly we created a functioning work of art. It serves to protect your firearm while looking stunning in the process.
We wanted to give you a little inside look at what you're getting into when you purchase a Sage & Braker gun case. The advantages, the benefits and the functionality.
Gun Case Materials
We based the materials for our gun case off our indestructible gun cleaning mat. Here's a breakdown on the materials used and why they make the best soft gun case.
12 oz. Waxed Canvas
Waxed canvas is notorious for its rugged and weatherproof qualities. Look at pictures from the turn of the 20th century where you'll find men as hard as the equipment they use. Likely you'll see them covered from head to toe in waxed canvas clothing. There's a reason we decided to make this material the foundation for our gun case. It's tough, it ages well with time, and most of all, it's proven.
Crazy Horse Leather
Crazy Horse Leather, also known as saddle leather, is an extremely strong and durable leather that builds character over time. It's a full grain leather that has wax applied to help protect it while also helping it age well, giving it a vintage look.
Quilted Wool
We use a heavy padded wool for the interior of the gun case. It's a resilient material that naturally resistants moisture and soiling. Dirt, mud and dust from a day in the field will be easily brushed off at the end of the day.  
Gun Case Design
Choices, choices… Zipper or scabbard style? How about both? Our full length, 53" gun case offers both the a 3/4 zip to give you full access to your firearm as well as a buckled top flap to allow you to slide your firearm out from the top. 
Scabbard Access
The top flap of our gun case is secured with antiqued brass buckle and double thickness of Crazy Horse leather for extra strength. The scabbard access is a great way to quickly grab your shotgun from the truck when out chasing upland birds. The case slides under the back seat of most trucks, giving you an easy way to grab your firearms without pulling out the case.
3/4 Brass Zipper
A logo embossed leather zipper pull on the 3/4 length zipper will gain you traditional access to your firearm. This is a great way to open up the case and allow it to dry out if your gun happened to be out in a snowstorm during your last pheasant hunt or after taking a bath in the swamp while a flock of green heads cupped into your set of decoys. 
Crazy Horse Leather and Canvas Reinforced Carrying Strap
An adjustable length carrying strap made from the Crazy Horse Leather and reinforced canvas makes light work of toting around your firearm. To prevent the strap from digging into your shoulder we added an adjustable snap on, snap off shoulder pad.
You have the ability to change carrying styles with the array of reinforced D-Rings that allow you to carry your firearm in the horizontal position as well as slung over your back for long distance carries.
Rounded Crazy Horse Leather End Cap
Not just a pinched end, but a hand sewn rounded leather end cap that adds to the strength of your gun case. A leather loop attached to the end cap allows you to hang your case while not in use.
Crazy Horse Leather Carrying Handle
Snap the leather handle together and off you go.
Antiqued Brass Hardware
We use the toughest hardware you can find for our gun cases, including thick antiqued solid brass D-rings and easy to use swivel trigger naps for the shoulder sling.
Protecting Your Firearms
Transporting your shotgun or rifle in and out of the field can expose it to all sorts of contaminants that you don't want on your gun. A good gun case what will keep the dust, dirt and rain on the outside and your gun dry and clean on the inside. There are endless ways to end up scratching and dinging your barrel and stock, a good gun case will help prevent that.
Your firearms are not only costly, but they are a part of your legacy. Memories are attached to them and you want those memories to stick around for generations to come. Keeping your gun cased when not in use is a crucial way to ensure that. 
Share this