The Sage & Braker Gun Cleaning Mat: Crafting A Modern Heirloom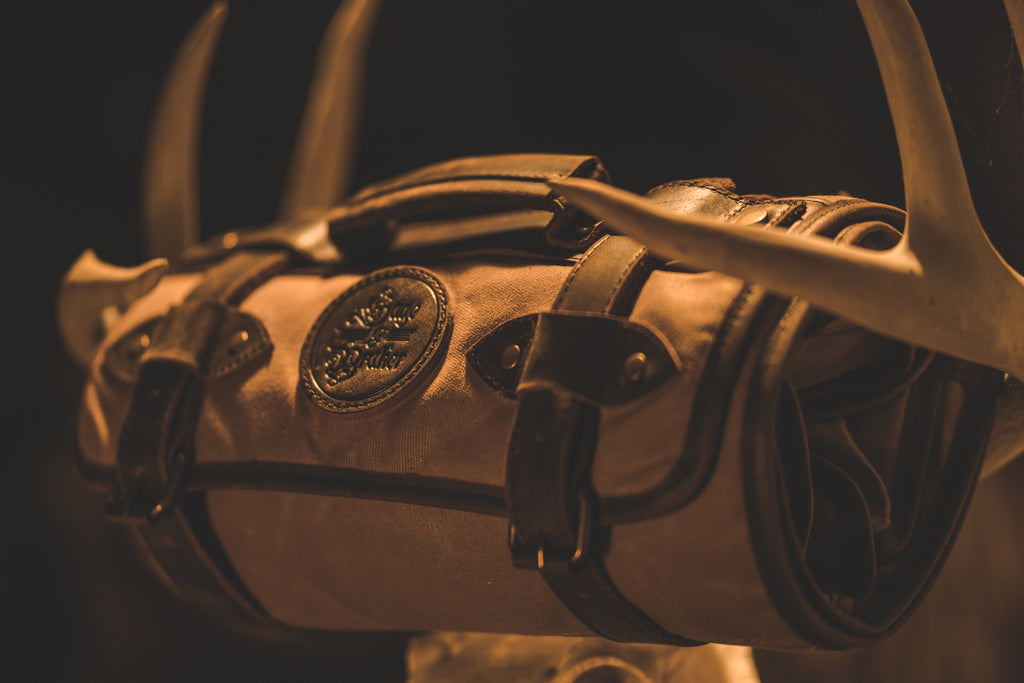 I think there's something to be said in using an old worn out stained towel with heavy remnants of gun solvent, with a hint of gunpowder smell imbedded in its fibers, when cleaning our firearms. We've all done it or still use a "towel-like" rag to lay our guns upon. Historically when firearms were invented, I bet you an old garment or piece of cloth was used as a makeshift gun cleaning mat. Heck, maybe even an animal pelt! Hundreds of years later, the gun cleaning mat really hasn't evolved. Yes, one can purchase one of those "green" mats with a rubbery bottom but it's not going to get any fancier than that. Until now. 
Fred Bohm had a vision when he started Sage & Braker (named after his bird dogs) in 2015 to create a gun cleaning mat worthy of passing it on as an heirloom along with our firearms to someone worthy of their possession. A gun mat handed down from generation to generation. Fred was tired of those glorified mouse pads and wanted to build a mat that would be multi-functional, yet timeless and classic.  
The mat needed to have enough storage space to hold and organize gun cleaning gear, provide ample surface for cleaning, be portable, AND look good. The materials chosen are texturally appealing to the senses…12 oz. waxed canvas in tan, grey heavy wool, and thick brown leather trimmings and a chocolate circular leather patch emblazoned with the Sage & Braker logo. Even the stitching that binds the gun mat together is grade A class. For Fred's blueprint to come together, he brought on his mother, a quilter to help create his design. What materialized was nothing short of quality and craftsmanship. 
At the root of the S&B gun cleaning mat is its portability. Akin to a cowboy's bed roll, this gun mat can be rolled up, buckled down with its leather straps and easily transported. Once the quilted-patterned wool, which sits at a beefy ½ inch thick, is unveiled, an impressive set of measurements of 69 inches long X 16 inches wide is plenty space for cleaning shoguns, rifles, and handguns. The mat serves dual purpose at the local gun range or when plinking long range targets, as it can be used as a place for marksmen to lay prone when shooting. How's that for versatility! Bet ya you can't do that with one of those flimsy store-bought gun mats.                                                                                                   
Organization was second on Fred's list of details he wanted the gun mat to possess. The mat needed to have enough storage space for a multitude of S&B gun cleaning supplies; bore snake, CLP, brushes, swabs, patches, picks, and cleaning rags. The gun mat delivers on storage with four pockets of various sizes to accommodate items. Any articles too big can be merely rolled up securely within the gun mat. 
When I received my S&B gun mat, I was astonished as I unrolled it at the sheer size of the cleaning surface. The cushioned wool mat was large enough for two of my shotguns! Plenty of room to clean and keep track of gun parts. It made for an excellent impromptu cleaning station for my shotgun on a truck's tailgate after a long day of hunting pheasants and bobwhite quail.                                                
The gun cleaning mat is aesthetically pleasing as it is rugged in its look and feel. Its craftsmanship deserves to be displayed and not hidden in a gun cabinet. The quality materials that comprise the mat allow it to age well the more it is used. Every crease and wrinkle that reveals itself within the leather and canvas after each use tells an owner's story. The Sage & Braker gun cleaning mat is the finest you will ever own. Its warm natural yet brawny colors of leather, wool, and waxed-canvas lay the foundation for its trim and how it is bound together built to be passed down as an heirloom crafted to be bestowed onto the next generation. It is the Louis Vuitton of cleaning mats but built like a lumberjack. 
The old, adage you get what you pay for is evident in the quality when a Sage & Braker mat is purchased. The gun mat typically sells for $245.00. Not too shabby and well worth the investment for a gun cleaning mat that will last several lifetimes. And if you're wondering if Sage & Braker makes other top-quality products with Fred's unique take on them, you betcha. 
Written by Edgar Castillo
Share this