"Just a tool" … or are they - By Scott Linden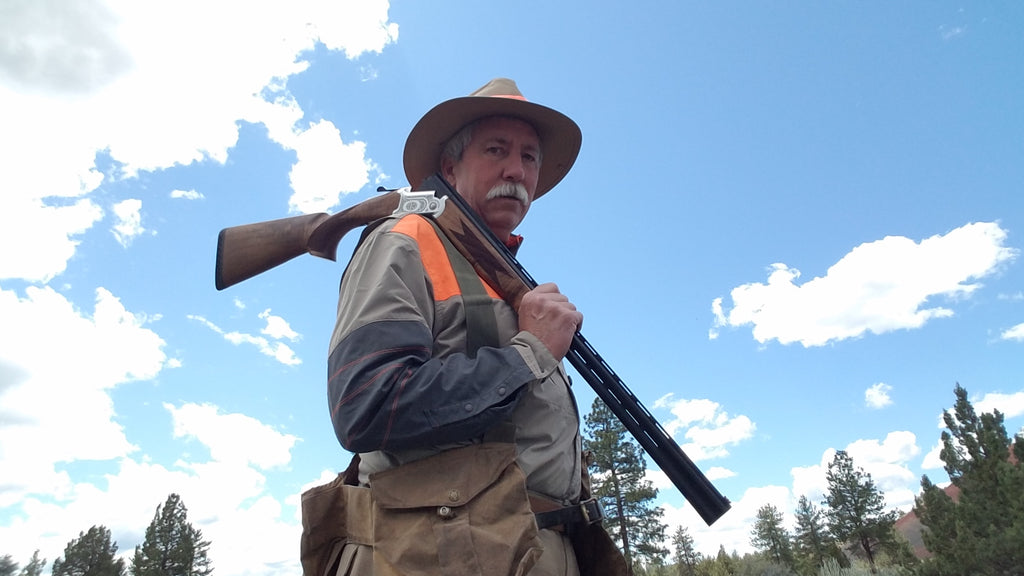 "Just a tool" … or are they?
By Scott Linden
I have a confession to make. I am not a gun geek. To me, they are tools. But of course, as such they need tender loving care – which is why you're reading this article here – there are no better products to protect my tools. But I live for bird dogs, so if it's history, heritage, performance or aesthetics, that's where I make the emotional and financial investment.
That said, guns are an integral part of my chasing-after-dogs-and-birds life. If after a tail-stiffening point, I don't shoot a cackling pheasant as it towers skyward, I'm disappointed and my dogs are devastated. Guns are the ticket to a wild ride that gets better every day.
Shotguns become currency in my world, and while not at the level of Bill Gates, I am lucky enough to be able to give some away in hopes of cultivating the love of hunting in others. My first "real" gun went to a down-on-his-luck printing press operator whose only firearm had finally shaken to pieces. When we next talked hunting, his downcast eyes said it all: it was over for him. I hope he's still jump-shooting ducks off that river we both love, with the shotgun that had gathered dust in my safe.
My brother was a reluctant co-star on one of my TV show episodes and at the end of that day, I gifted him the over-under he'd borrowed. Thousands of sporting clays rounds, my first pheasant, and two loyal dogs were like deep scratches on the stock of that sleek American-made beauty … memories that will never be erased. We will reunite next fall in the field, is my promise to my brother and that shotgun.
At a shooting clinic, a young high schooler was missing more than hitting, surprising for a "natural," as I'd been told. She was trying hard to learn from a master, shoot better and represent her school proudly, but was hampered by an ill-fitting and malfunctioning shotgun. I lost sleep that night, thinking about her long soul-searching drive home, the after-action report to her coach and teammates, and her slackened hopes for competition in the coming school year.
I sent her one of mine. An elegant Italian over-under that deserved better than I could ever offer. Intricate engraving, the lines of a sports car, I hope it served her well; asked her to pay it forward when she got her next one and give it away – again.
Shotguns from television sponsors have become prizes in my ongoing effort to recruit newcomers to our sport. Often, they're lent to youngsters on their first hunt. Each helped tell a story, about mothers and sons, rekindled childhood memories, of brothers and friends, teens and middle-aged beginners. I'm hoping those firearms are helping create life-long hunters and conservationists – who then recruit their own new hunters.
I have visitation rights to the only shotgun that I might regret having given away: a Spanish side-by-side that served me well for almost a decade. Functional like a Ford F-150, no bells or whistles it was built by craftsman to be "workmanlike." I carried it up countless draws in chukar country, dinged it chasing quail, Huns, pheasants and ducks. It suffered indignity after indignity, including a failed attempt to learn to shoot left-handed when a friend and I bent the stock.
Light and whippy, it was the gun I learned to really shoot with, one lesson tallied 1,000 rounds in a day. I hit more than I missed that day, and was indebted to that sublime example of Basque metalworking for many birds pointed, then retrieved, by four different dogs.
But I'd moved on, was using "better" guns by the time my hunting buddy asked about it while we caught our breath on a desolate mountain top. Sure, it was in the truck. It was the third-string on that hunt, should my two "good" guns fail. The look in his eye, the longing he had for a gun that had been his companion as much as mine in those scabby hills, well, that said it all. And he was left-handed.
Twice a season, we meet again on some scabby piece of the West. I reacquaint myself with that example of simple elegance, usually as the gun, me, and my friend are huffing and puffing up another volcanic slope in pursuit of chukars. He shoots it much better than I ever did, which I guess is proof it is now in the hands of its rightful owner.
Taking good care of my guns, even if they're only a means to an end, makes sense. They are then ready, willing, and able to serve their higher purpose: helping others in their own pursuit of birds and beautiful places in the company of good friends and family.
Share this